Welcome to the Toolkit
Providing patient-centered, culturally and linguistically appropriate care is a core tenet of the Title X Program. Ensuring a positive reproductive health care experience supports patients to obtain the care they need. This toolkit offers practical guidance that family planning clinics can use to improve patient experience, with consideration given to staff, time, and financial constraints.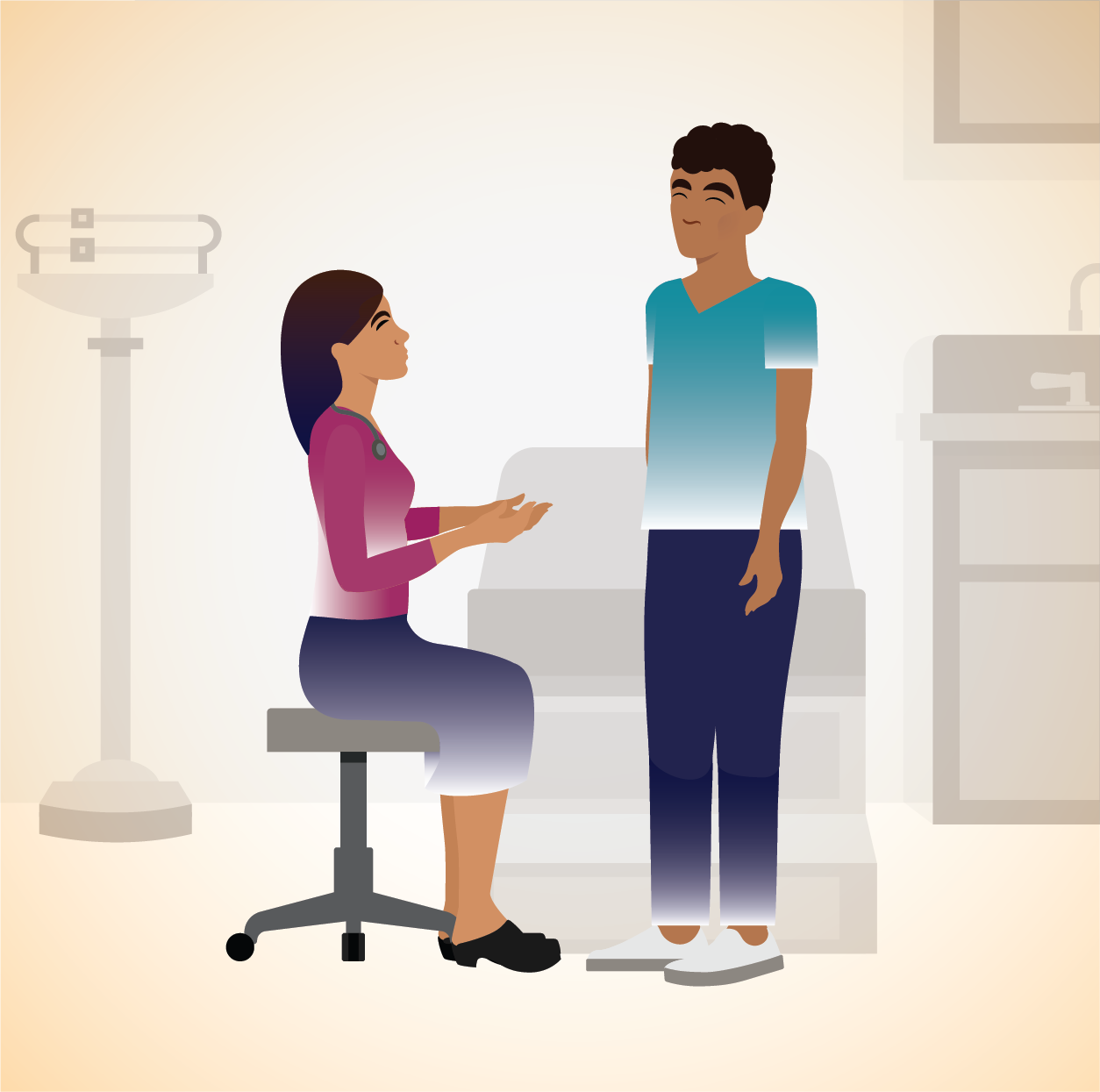 Since patient experience goes beyond customer service—it includes clinic systems, interactions between patients and staff, and the clinic environment—this toolkit includes sections to help providers improve across all aspects of patient experience. The resources in this toolkit can be used in any order. The toolkit is organized into the following sections:
Assess patient experience
Improve clinic systems
Improve patient interactions
Improve the clinic environment
Improve staff experience and engagement
Reproductive health services are personal and sensitive by nature; therefore, it is essential that family planning clinics pay special attention to how patients1 experience their care. In 2001, the Institute of Medicine named patient-centeredness as one of six health care quality priorities for the U.S. health care system.2 Since then, health care providers, programs, and insurers have increasingly cultivated patient experience as a central element of health care quality, codifying it into policies and practices, and tying it to compensation structures. 
Patient-centered care is respectful of, and responsive to, individual patient preferences, needs, and values.
Furthermore, Title X agencies must ensure that people broadly representative of the community have an opportunity to participate in the development, implementation, and evaluation of the project. Involving patients and community stakeholders in assessing and improving how patients experience care is one opportunity to obtain this participation.
Patient-centered care improves health outcomes and equity
Health equity is when all persons have the opportunity to attain their full health potential and no one is disadvantaged from achieving this potential because of social position or other socially determined circumstances. Research demonstrates that delivering patient-centered care leads to greater engagement in patient self-care,3 better health outcomes,4 increased patient retention, and health equity.5,6,7
There is a long history of unethical practices—including unethical research practices—in reproductive health care, such as those used in the U.S. Public Health Service Tuskegee Syphilis Study and the Puerto Rico Pill Trials, forced sterilizations, and coercion to use certain methods to limit childbearing.8,9 The burden of these practices has disproportionately affected people of color. The legacy of brutal treatment of enslaved Black women continues to impact their relationship with the health care system.10 Patients continue to experience differential reproductive health services based on their race, gender, sexuality, and socioeconomic status.11,12  A patient-centered approach is one that takes into account the history of coercion and ongoing inequities, encourages reflection on the role of providers in breaking the cycle of inequity, and identifies and implements ways to provide care that all patients experience as appropriate, high quality, and equitable.
Positive patient experience improves staff satisfaction and engagement
Staff experience and patient experience are interrelated. Interviews with health care staff indicate that staff who feel heard are more likely to be motivated and receptive to feedback, which in turn leads to improved care delivery; that being involved in quality improvement around patient-centeredness is motivating to staff; and that improving patient experience can directly improve staff experience.13
Satisfied employees intend to stay in their jobs longer.14 Research shows that organizations successfully reduce staff turnover and increase employee productivity when they invest in employee well-being by strategically improving workplace conditions that are the root causes of stress.15,16,17
The first step in any improvement initiative is to use available data to assess the baseline (or starting point) and identify opportunities for improvement. This involves collecting data from existing patients, to understand their current experience; potential patients, to understand barriers to care and preferences; as well as staff, who observe first-hand how patients access and engage in their health care every day. 
Understanding patient satisfaction is part of understanding patient experience—but it isn't the whole picture. Whereas patient satisfaction data tells you the degree to which patients feel satisfied (for example, with their wait time), patient experience data tells you what happened to them (for example, they waited 7 minutes before being checked in). Both types of data are important. If you collect only patient satisfaction data, you might learn that patients are not happy with the wait time but not how long the wait time is. Likewise, if you collect only patient experience data, you might learn that the average wait time is 16 minutes but not if that wait time is acceptable to the patients or leaves them feeling frustrated. To get a holistic view, consider collecting both patient satisfaction and patient experience data.
Gather patient experience data
| Action Steps | Supportive Resources |
| --- | --- |
Use data to identify opportunities for improvement 
| Action Steps | Supportive Resources |
| --- | --- |
Consider the ways in which the clinic's systems impact a patient's experience, from when they make an appointment to when they are at the clinic and moving through their visit. Points at which a patient may get confused or frustrated are good opportunities for improvement.
Increase appointment accessibility
| Action Steps | Supportive Resources |
| --- | --- |
| Action Steps | Supportive Resources |
| --- | --- |
A positive patient experience involves multiple elements, but the most important factor is the quality of staff interactions with patients. Whether in-person or virtual, interactions are what patients most remember about their visits.
Ensure staff capacity to approach patients with sensitivity, respect, and cultural humility 
Adolescent-friendly health services are services that are accessible, acceptable, equitable, appropriate and effective for adolescents.
Culturally and linguistically appropriate services are respectful of and responsive to the health beliefs, practices and needs of diverse patients.
Inclusive means that all people are fully included and can actively participate in and benefit from family planning.
Trauma-informed means realizing the widespread impact of trauma and understanding potential paths for recovery; recognizing the signs and symptoms of trauma; and responding by fully integrating knowledge about trauma into policies, procedures, and practices, and seeking to actively resist re-traumatization.
| Action Steps | Supportive Resources |
| --- | --- |
Ensure virtual visits provide patients with a positive experience
| Action Steps | Supportive Resources |
| --- | --- |
Ensure written materials are patient-centered, inclusive, and appropriate
| Action Steps | Supportive Resources |
| --- | --- |
It is important to provide an attractive, professional environment—both physical and virtual—that makes patients feel welcome, comfortable, respected, and valued. Patients need to feel that they are in a safe space so that they are comfortable giving staff the information necessary to receive quality care. To fully understand how the clinic environment makes patients feel, ask individuals unaffiliated with the clinic who provide a fresh perspective, such as youth, to assess the space and offer suggestions for improvement.
Assess and improve the clinic's physical and virtual environment
| Action Steps | Supportive Resources |
| --- | --- |
It's important to recognize the large role that staff have in how patients experience care. It is the warmth, friendliness, and care shown by staff that keeps many patients coming back to a family planning clinic. This dedication should be acknowledged and elevated so that staff see the value they provide to patients and are motivated to continue their important work. 
Assess and enhance staff experience and engagement
| Action Steps | Supportive Resources |
| --- | --- |
This toolkit was supported by the Office of Population Affairs (Grant FPTPA006030) and Office on Women's Health (Grant ASTWH200090). The views expressed do not necessarily reflect the official policies of the Department of Health and Human Services; nor does mention of trade names, commercial practices, or organizations imply endorsement by the U.S. Government.
Note: "Patient experience" and "patient-centered" are known and widely used terms across the health care field. Therefore, even though the Title X Program uses the term "client," this toolkit uses the term "patient."
Institute of Medicine. (2001). Crossing the Quality Chasm: A New Health System for the 21st Century. National Academies Press (U.S.).
Street, R.L., Jr., Makoul, G., Arora, N.K., & Epstein, R.M. (2009). How does communication heal? Pathways linking clinician-patient communication to health outcomes. Patient Education and Counseling, 74(3), 295-301. https://doi.org/10.1016/j.pec.2008.11.015
Stewart, M., Brown, J.B., Donner, A., McWhinney, I.R., Oates, J., Weston, W.W., & Jordan, J. (2000). The impact of patient-centered care on outcomes. Journal of Family Practice, 49, 796-804. PMID: 11032203.
Safran, D.G., Montgomery, J.E., Chang, H., Murphy, J., & Rogers, W.H. (2001). Switching doctors: Predictors of voluntary disenrollment from a primary physician's practice. Journal of Family Practice, 50(2), 130-136.
Browne, A.J., Varcoe, C.M., Wong, S.T., et al. (2012). Closing the health equity gap: evidence-based strategies for primary health care organizations. International Journal for Equity in Health, 11(59). https://doi.org/10.1186/1475-9276-11-59
 Dehlendorf, C., et al. (February 2021). Evolving the Preconception Health Framework: A Call for Reproductive and Sexual Health Equity. Obstetrics & Gynecology, - 137(2), 234-239. doi: 10.1097/AOG.0000000000004255 
Higgins, J.A., Kramer, R.D., Ryder, K.M. (November 2016). Provider Bias in Long-Acting Reversible Contraception (LARC) Promotion and Removal: Perceptions of Young Adult Women. American Journal of Public Health, 106(11), 1932-1937. doi: 10.2105/AJPH.2016.303393. PMID: 27631741; PMCID: PMC5055778.
Gold, R.B. (2014). Guarding Against Coercion While Ensuring Access: A Delicate Balance. Guttmacher Institute.
Prather, C., Fuller, T.R., Jeffries, W.L. 4th, et al. (2018). Racism, African American Women, and Their Sexual and Reproductive Health: A Review of Historical and Contemporary Evidence and Implications for Health Equity. Health Equity, 2(1), 249-259. doi: 10.1089/heq.2017.0045
Dehlendorf, C. et al. (October 2010). Recommendations for intrauterine contraception: a randomized trial of the effects of patients' race/ethnicity and socioeconomic status. American Journal of Obstetric Gynecology, 203(4), 319.e1-8. doi: 10.1016/j.ajog.2010.05.009
Dawson, R. & Leong, T. (November 2020). Not Up for Debate: LGBTQ People Need and Deserve Tailored Sexual and Reproductive Health Care. Guttmacher Institute. https://www.guttmacher.org/article/2020/11/not-debate-lgbtq-people-need-and-deserve-tailored-sexual-and-reproductive-health
Locock et al. Understanding how front-line staff use patient experience data for service improvement: an exploratory case study evaluation. Health Services and Delivery Research, No. 8.13. Southampton (UK): NIHR Journals Library; 2020 Mar.
Duffield C, Roche M, O'Brien-Pallas L, Catling-Paull C, King M. Staff satisfaction and retention and the role of the nursing unit manager. Collegian. 2009;16(1):11-7. doi: 10.1016/j.colegn.2008.12.004. PMID: 19388422.
Kelly EL, Moen P. Overload: How Good Jobs Went Bad and What We Can Do About It. Princeton, NJ: Princeton University Press; 2020.
Ton Z. The Good Jobs Strategy: How the Smartest Companies Invest in Employees to Lower Costs and Boost Profits. Boston: New Harvest/Houghton Mifflin Harcourt; 2014.
Harvard T Chan School of Public Health. Work Design for Health: A Promising Approach to Worker Well-Being. 
 
×
Error message
It looks like you're not logged in! Log in to add this course to your training report and receive a Certificate of Completion or Continuing Education credits.
Log in
to your account now or
create a new account
Enroll
Related Resources
Last Reviewed: 2022-03 | Video
How to Provide a Positive Family Planning Experience Video