Welcome to the Toolkit
Every woman has a right to have the information and resources she needs to make personal decisions about her own life, including when or if she wants to be pregnant, and to choose if and when she wants a family. The goal of this toolkit is to support family planning providers in ensuring access to the full range of contraceptive methods for clients who could become pregnant, but wish to avoid pregnancy at this time. This toolkit supports improvement on the contraceptive care measures, which have been endorsed by the National Quality Forum.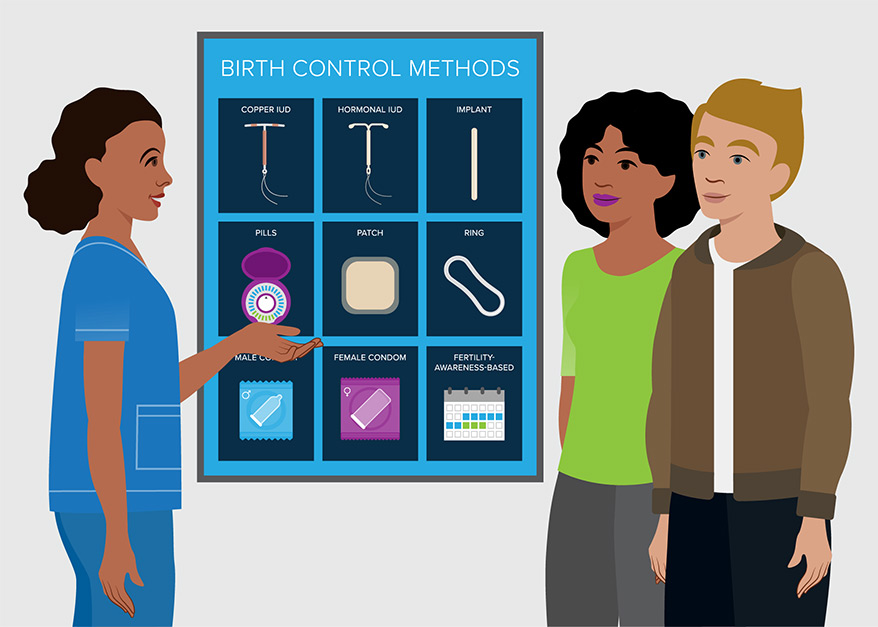 This toolkit includes a series of training guides and complementary resources that support facilitation of interactive learning sessions about how to implement best practice recommendations outlined in the Contraceptive Access Change Package. Each training guide consists of a PowerPoint slide deck with talking points and an accompanying discussion guide. The resources in this toolkit can be used in any order according to a site's needs and priorities. Training guides can be adapted and revised as needed, and may be used to:
Convene staff from one or more family planning clinics for a standing meeting (e.g., monthly) to discuss each Best Practice (in order or as needed) from the Contraceptive Access Change Package.
Convene a one-time meeting with clinic staff about this topic.
The toolkit walks sites through a process to increase contraceptive access, organized around the four best practice recommendations of the Contraceptive Access Change Package.
Assess baseline contraceptive access
Develop an improvement plan
Best Practice 1: Stock a broad range of contraceptive methods
Best Practice 2: Discuss pregnancy intention and provide patient-centered counseling
Best Practice 3: Develop systems for same-visit provision of all contraceptive methods
Best Practice 4: Utilize diverse payment options to reduce cost as a barrier
Sustain and spread improvements
Sites should begin by assessing the current level of client access to contraception by comparing site-level practices to established best practice recommendations, and looking at Family Planning Annual Report (FPAR) data.
| Action Steps | Supportive Resources |
| --- | --- |
Undertaking a participatory process for developing an improvement plan ensures staff have ownership and understand their respective roles in achieving change.
| Action Steps | Supportive Resources |
| --- | --- |
Title X-funded projects are required to provide a broad range of acceptable and effective family planning methods and services. Although some methods can be obtained without a provider, or by prescription, the provider-dependent methods need to be stocked on-site in order to ensure clients can access them without delays. At a minimum, at least one type of each Food and Drug Administration-approved provider-dependent method (i.e., hormonal IUD, copper IUD, implant, and injectable) should be stocked on-site. Other methods should also be readily available, either stocked on-site or through a pharmacy.
| Action Steps | Supportive Resources |
| --- | --- |
The Office of Population Affairs (OPA) recommends discussing a reproductive life plan with all family planning clients. Asking the question, "Do you think you would like to have (more) children someday?" is an introduction to the conversation that opens the door for further discussion of reproductive health needs—including contraception. Adhering to patient-centered counseling principles outlined in QFP can help clients identify the most appropriate contraceptive methods.
| Action Steps | Supportive Resources |
| --- | --- |
According to the Centers for Disease Control and Prevention (CDC) and OPA, clients should have access to their contraceptive method of choice without unnecessary delays. "Same-visit" provision of contraception means providing immediate access to contraceptive methods using Quick Start, and not requiring clients to return for a separate appointment on another day or even later the same day to initiate contraception.
| Action Steps | Supportive Resources |
| --- | --- |
The Title X Family Planning Program provides services and information to all clients who want and need them, with priority given to persons from low-income families. Removing cost barriers ensures clients can choose a method that is most appropriate and desirable.
| Action Steps | Supportive Resources |
| --- | --- |
Implementation is not a one-time activity and does not end after initial improvement plan changes are made. Using a quality improvement approach, staff should prepare for how changes will be sustained at the site, and, once successful, how to spread them to other sites in the network.
| Action Steps | Supportive Resources |
| --- | --- |
×
Error message
It looks like you're not logged in! Log in to add this course to your training report and receive a Certificate of Completion or Continuing Education credits.
Log in
to your account now or
create a new account
Enroll